About the hotel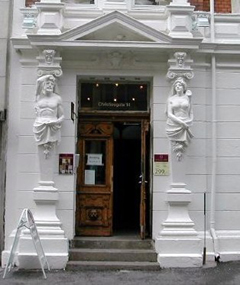 Architecture
There is a historic ambience at the City Apartment Hotel. The Hotel`s facade is red brick with sculptures, ornaments and fine details. The building has been nominated as a historic landmark.
The Architect Schak Bull (1858-1956) designed this building for the rich and influential businessman Consul Jacob Kroepelien. Schak Bull was the city's greatest architect of his time and developed a style named " The Bergen School". He also designed a number of prominent buildings in Bergen, including "Troldhaugen" for his cousin, the world famous composer Edvard Grieg. Schak Bull, by the way, was the grandchild of the violinist and utopian Ole Bull.
The sculptures at the entrance were created by Ingebrigt Vik (1867-1927). Vik is regarded as one of the greatest Norwegian sculptors. He was the sharpest competitor to Gustav Vigeland who founded the famed Vigelandsparken in Oslo. At Øystese outside of Bergen there is a museum dedicated to Ingebrigt Vik.
It is with great respect we are administer this historic building, and it is with pride we welcome you to our Hotel.